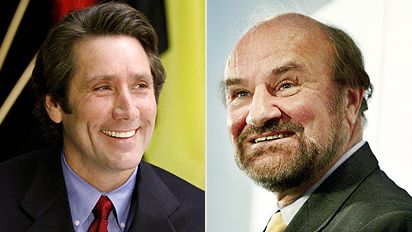 It appears the 10 year split of open wheel racing is finally over. All indications
here
are that
Champ Car
is about to declare bankruptcy --leaving Tony George and his Indy
Series
as the sole survivor.
Too bad. George is the greedy ass owner of the Indianapolis 500 who split the series over the decade ago in a snit about money. It appeared that a merger was likely, but the bankruptcy will end the merger and permit the Indy series to emerge as the winner. Champ Car was the better series with better drivers and great road races, but Indy had Danica Patrick, the Indy 500, and the cash to stay aflot. Hopefully this will lead to better racing. Remember, before the split Indy racing was bigger than NASCAR. Now both leagues were losing drivers left and right to NASCAR because there was so much more money for drivers to make.
I don't like how it was resolved, but thank God the split appears to be over.
Click on the picture of George & Kalkhoven for recent photo of an IRL Driver.
UPDATE: Good news! speedtv.com is reporting
here
that the two series will merge. This means we will see the Long Beach race continue and more roadcourse races. Plus at least 10 Champ Car teams will race in the IRL this year.